Description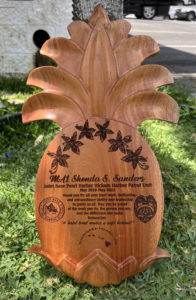 Nicely carved pineapple from Mahogany wood for custom engraving.
One or two images can be on the top followed by the name of the person and other information.  Send us the information and we will send you the best layout.  We have other floral designs.
Length  18″      Width  10″   Wood thickness  1.2″
HOW THE ENGRAVING PROCESS WORKS
 Send the words to be engraved with your order.  You will receive an order number and an email confirmation.  You can only attach one image at first.  If you want to include more images in your layout, please mention that in your order description and send those separately to the same email address with your order number in the subject heading.  Fill out the "Due Date" portion of the order form.
New images that we do not have in stock cost $10 each.  Please send high-resolution or vector images if possible.  We will let you know during the proofing processing if your image is new.  We have been in business for over 17 years and we have most of the Hawaii military images.  DO NOT send photographs of cloth badges or coins to be used as images.
If you have coins, they are $10 extra if they are round and $15 to $30 if they are "wild" irregularly shaped, or larger than 3″ in diameter coins.  Drop the coins off at the engraving shop in Aiea, or mail it to the address Makemake Makana LLC, 99 920 Iwaena st, unit 102, Aiea Hi 96701
We will send you a layout with the images and the words you requested so you can review and suggest changes or approve.  You have 3 chances to change your layout, then we must move on to printing. We will print only after you approve. We will send another email when your order is complete for pickup.  To check on your order status, please call the engraving shop at 808 484 1415.
RUSH ORDERS are $20 if you need them earlier than 5 days of your order date.  Pay the Rush fee when you pick it up.
If your order is not a RUSH order, make your pickup date to be at least 7 days after the date of purchase.
WE SHIP ONLY TO THE USA and APO addresses. ( $30)
Allow at least 3 weeks for any item to be shipped out.
We use USPS priority.  If you want your item expedited, please let us know in your description.  The cost will be extra.
Please make sure your address accepts packages, if your package is returned for any reason,  you will have to pay again to reship it.